Charger News
Our students are making headlines, and we want to share all the great news with you. We will keep this page updated with important announcements, news stories, and student shout-outs. Please check back often, and help us celebrate our students' many achievements.
School Supply Lists
School supply lists are now available for the 2023–2024 school year. Make sure to have everything on your supply list to equip yourself for another great year.
Honor Roll for the Fourth Nine Weeks and Second Semester
Principal Rob Smith has announced the names of students attaining honor roll status at North Decatur Elementary for the fourth nine weeks and second semester. Please take a moment to view the honor roll students below.
Summer Meals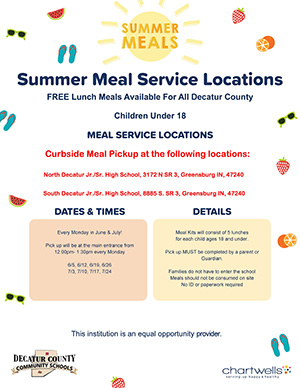 Summer meal service locations are offering free lunch meals available for all Decatur County to children under 18. Curbside meal pick up is available at the following locations:
North Decatur Jr./Sr. High School: 3172 N. SR 3, Greensburg, IN 47240
South Decatur Jr./Sr. High School: 8885 S. SR 3, Greensburg, IN 47240
Meals are available every Monday in June and July. Pick up will be at the main entrance from noon to 1:30 p.m. every Monday on June 5, June 12, June 19, June 26, July 3, July 10, July 17, and July 24.
Meal kits consist of five lunches for each child ages 18 and under. Pick up must be completed by a parent or guardian. Families do not have to enter the school. Meals should not be consumed on site. No ID or paperwork required.
This institution is an equal opportunity provider.